Title
Diabetes treatments and risk of cancer: a series of nested case-control studies
What is the aim of the study and why is it important?
Type 2 diabetes is a condition which is becoming more common as the population ages and obesity levels increase. Diabetes can lead to heart disease, kidney disease and also an increased risk of some cancers. It is not known whether the increased risk of cancer is due to having diabetes or due to the medicines that can be taken for diabetes, which include metformin, sulphonylureas, insulin and newer drugs called thiazolidinediones. Some research has found that the risk of some types of cancer could be reduced by certain diabetes medicines. The aim of this study is to investigate whether these different treatments seem to influence the risk of different cancers in people with diabetes.
How is the research being done?
The study has used the QResearch database to select a large group of people who have been diagnosed with type 2 diabetes. Then in this group of patients we have found which patients have had a diagnosis of one of 12 different types of cancer (cases). We have also selected groups of patients with type 2 diabetes who don't have cancer to use (controls). We will compare the treatments for diabetes which the two groups of patients have had to find out whether the diabetes treatments have different effects on the risks of developing cancer, taking into account any differences between the groups such as obesity, smoking history, ethnicity, and other health conditions. We will also look at how long the patients had taken the treatments for and the doses they received to see whether these affect the risk of cancer.
Sponsor
Oxford
Generic ethics approval reference
18/EM/0400
Funding Source
Funded by the National Institute for Health Research School for Primary Care Research.
Research Team
Carol Coupland (Chief Investigator), Trevor Hill, Yana Vinogradova, Julia Hippisley-Cox: University of Nottingham Peter Brindle: University of Bristol
Date research approved
12.7.2011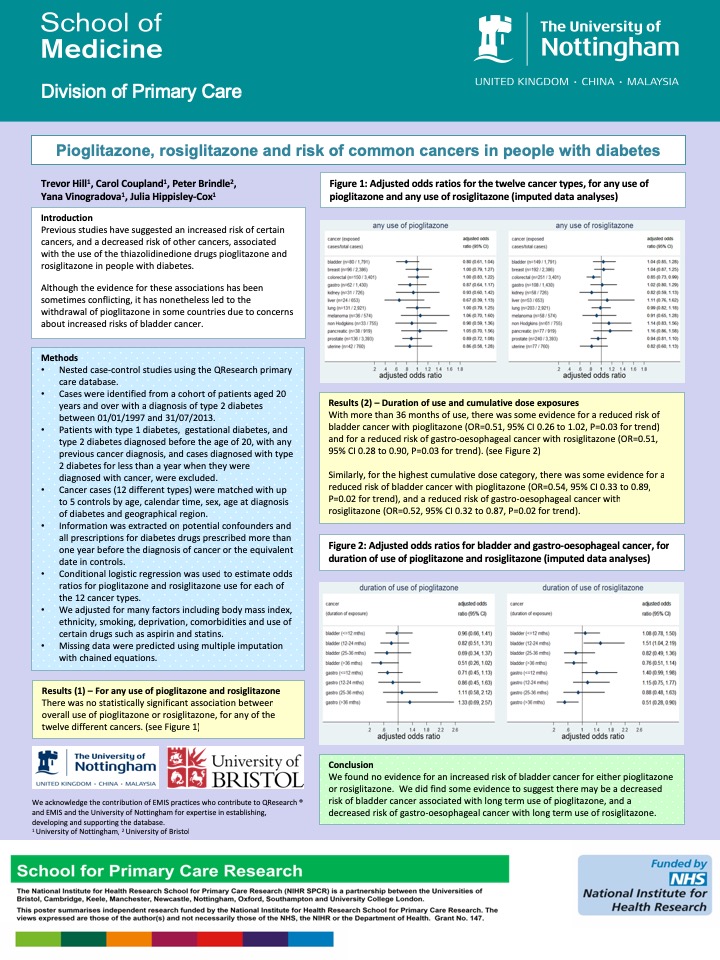 Share this